This week
The fourth Sunday of Advent brings an abundance of Christmas music, especially at the Lessons and Carols at 6.30pm tonight. Among the highlights is this morning's motet, "A tender shoot" by Otto Goldschmidt (1829-1907), which speaks of Christ, brought by the Virgin in the depths of winter, to "turn our darkness into light". Another favourite for many people at Christmas is John Tavener's, "The Lamb", which he wrote in 1979 using the text of William Blake's well-known poem (published in 1789). The poem is a conversation between a child and a lamb, as they realise the one who made them was also called a Lamb. Tavener weaves a simple plainsong melody with its refection in a gentle piece of extreme tenderness. Another undoubted highlight is "Hodie" by the genius Dutch composer Jan Pieterszoon Sweelinck (1562 – 1621) whose works straddle the end of the Renaissance and beginning of the Baroque periods. The words capture the joy of Christmas (they mean "Today Christ was born, glory to God in the highest") and this is echoed in the interconnecting lines and responses of the different parts of the choir.

There are three sung services over Christmas Eve and Christmas Day. Firstly, a big shout-out for the junior choristers who will be leading the carols and singing the anthem at the Crib Service at 5pm. Congratulations to all of them, as for several it will be their first opportunity to sing with the choir. At 11.30pm, Midnight Mass, the motet is The Infant King (Sing lullaby), a Basque carol arranged by David Willcocks (1919 – 2015), a composer and choir master who was particularly well known for his association with the Choir of King's College, Cambridge. On Christmas morning the choir sings "A maiden most gentle", a carol with words by Andrew Carter (b. 1939) set to a traditional French tune which he arranged. The words paraphrase a text by The Venerable Bede (672 – 735).
MUSIC WEEK BY WEEK

St Michael's choir, led by Director of Music, Andrew Hanley, sings a wide range of choral music from ancient to modern composers. It also offers musical education to junior choristers through the RSCM "Voice for Life" scheme, and musical scholarships and grants to young people, students and children.
About us
We sing




Choral Eucharists



Evensongs

, Carol Services,


The Family Service…

We rehearse on Wednesdays from 7.30–9.00pm (6.55–7.45pm for younger singers) and before services. The choir doesn't sing at St Michael's immediately after Christmas and Easter, or during the school summer holiday, when cathedral visits are sometimes arranged.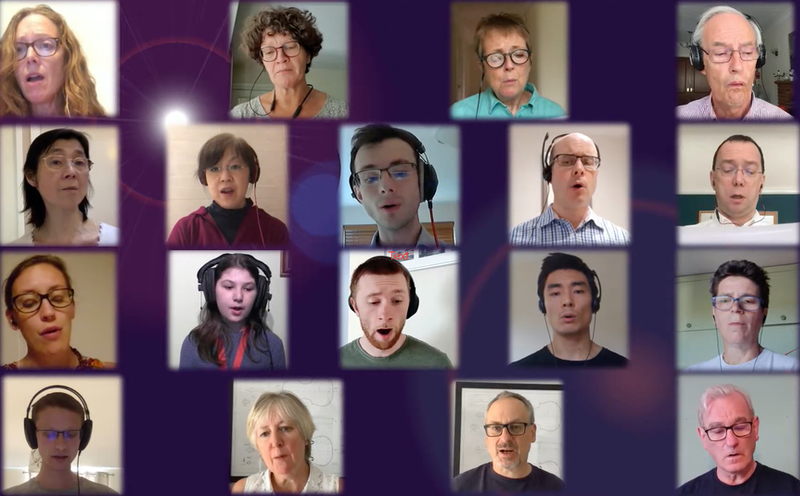 The Choir and COVID-19
During COVID times, it was hard to keep singing! Yet as a choir, we found it more important than ever. We worked hard to keep a choral sound available, and keep practising. Virtual anthems and hymns were produced for services. We ran a "virtual pub" after Zoom-based choir practices, complete with the occasional "pub" quiz, and birthday and special occasion celebrations. From the first service featuring our recordings (Palm Sunday, 2020) through to the end of the second lockdown in May 2021, well over 100 recordings of our hymns, anthems, and psalms were used in our services.

You can view the recordings of these virtual anthems on the YouTube "NSABparish" channel.
virtual anthems on YouTube